Binance has just added Compound (COMP) trading with 50x leverage on its futures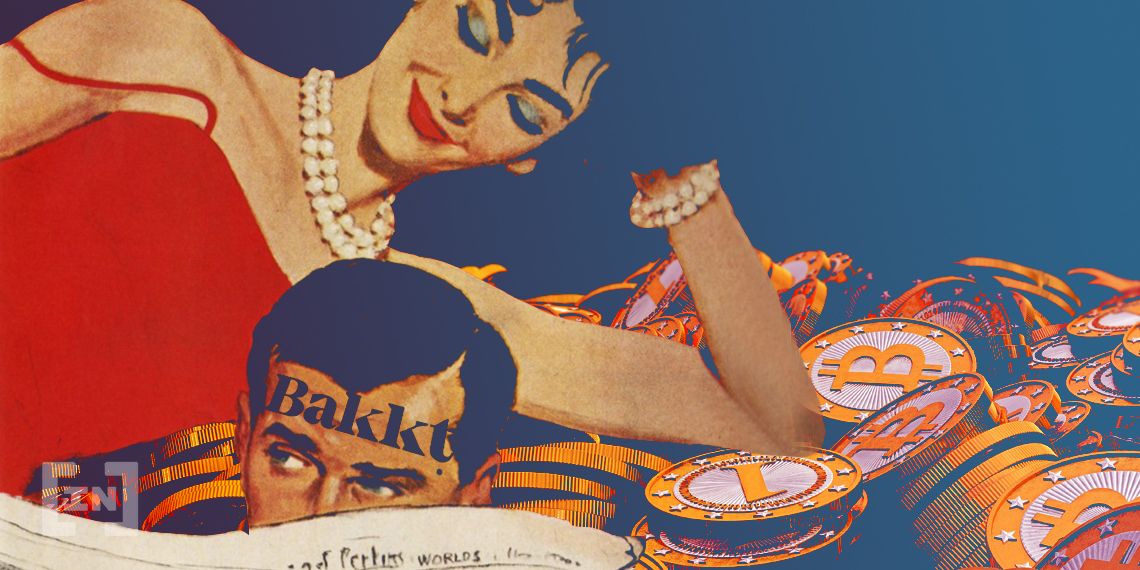 Futures contracts are literally agreements to buy or sell an asset on a future date and for a fixed price…. More exchange. However, the crypto community argues that the new altcoin is untested to allow for such a level of risk.
Compound (COMP) emerged on the scene only a few weeks ago. Already it has skyrocketed to become a leading speculative asset. Partly boosted by hype, COMP is currently the 23rd largest cryptocurrency with a market capitalization of $600M.
Unsurprisingly, its sudden rise to fame in decentralized finance (DeFi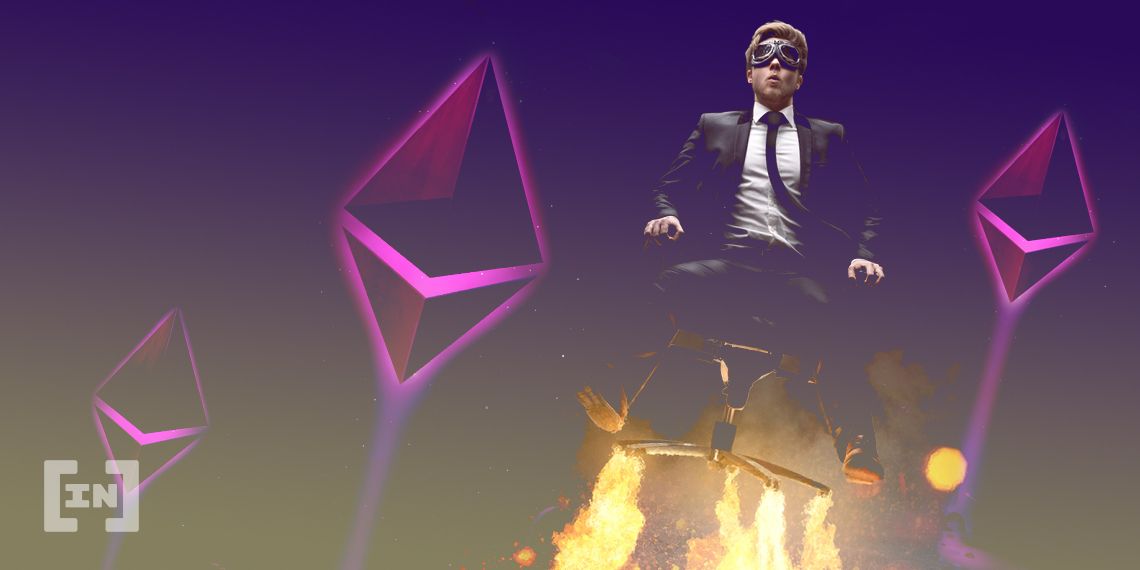 Decentralized Finance (DeFi) is a term that is being used to describe the world of financial services that are increasingly… More) has attracted the attention of many exchanges.
50x Leverage on COMP Futures
The announcement would not have been offensive if not for the fact that Binance is offering a mind-blowing leverage of up to 50 times. Given its short trading life span (from mid-June), many in the crypto community criticize the move as excessive.
One user writes:
"20x would have been more appropriate"
Binance has a history of adding new altcoins with far too much risk. The listing may also be an attempt to piggyback off COMP's success from the FTX Exchange. As you may recall, the two exchanges quarreled in the past after Binance delisted all of FTX Exchange's leveraged tokens.
Back then Binance claimed that it was "protecting its users." However, just two months later it decided to add its own leveraged token trading. COMP has been trading on FTX for around ten days now and as WhalePanda (@WhalePanda) jokes, Binance was too late to the "pump and dump" on this one.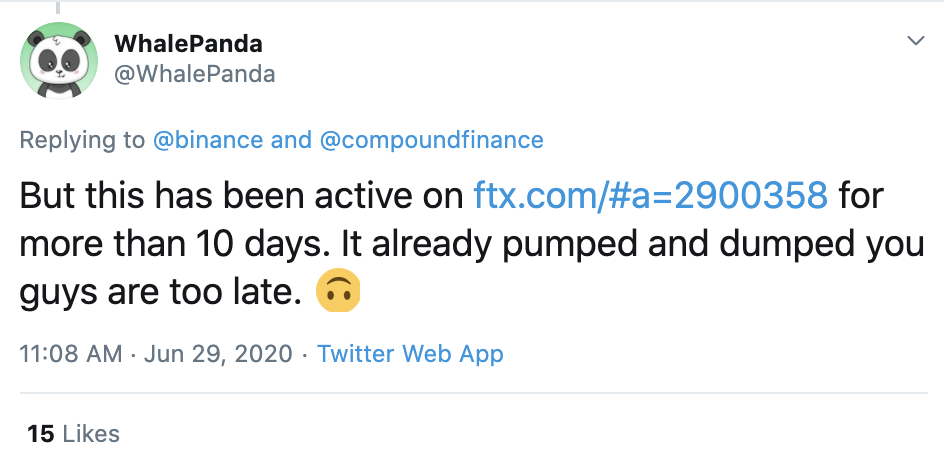 Too Much Risk
Binance has often been criticized for allocating too much risk to unproven cryptocurrencies. This often happens when exchanges put profits above the safety of their customers. A classic example of this is Poloniex, which allowed margin trading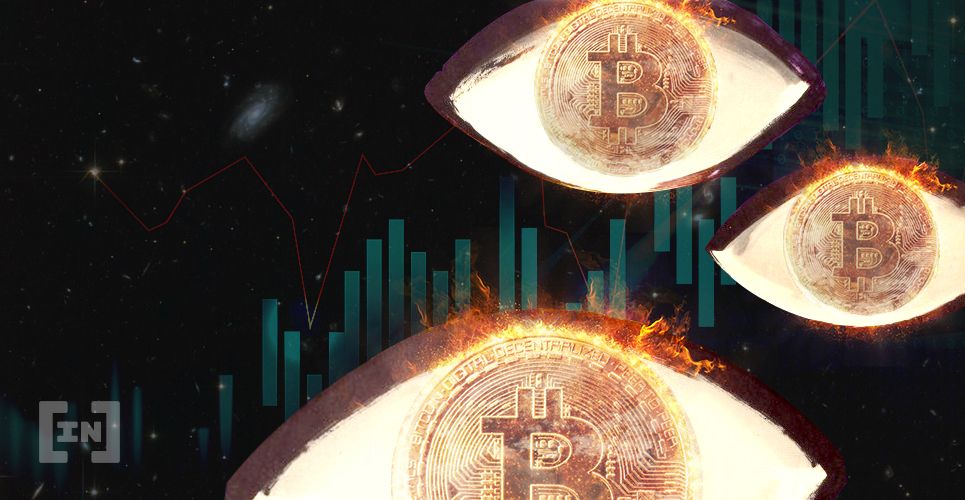 The trading space has evolved over the past few years, with new methods of making predictions on cryptocurrencies being introduced… More on an obscure altcoin called CLAMS.
The exchanged ended up paying $18M in damages after a flash crash wiped out the entire lending pool. The fiasco was the final nail in the coffin for the once-popular exchange, which has since been purchased by the notorious Justin Sun. 
Binance is no exception, of course. In December 2019, MATIC crashed by some 70% in less than an hour. Whales manipulated the order book, and some estimates say that 44% of the entire circulating supply was put up for sale.
Binance offered MATIC on margin but later removed it following the crash. In response to the saga, BeInCrypto (BIC) published an op-ed urging Binance to delist illiquid altcoins from its margin trading platform. The danger was clear, as BIC explained:
The strategy for making a profit in this casino market is very simple for whales: just short on margin trading and then dump all your holdings to force a cascading sell-off. The more of the circulating supply you control, the easier it is. It's a sure way to make a profit, given how broken margin trading is for many altcoins.
Compound Also Doomed to Fail?
Now, it's not necessarily the case that this will happen to Compound. For one thing, COMP has a larger trading volume than MATIC. However, exchanges still aren't learning from past mistakes. So the question remains: will offering 50 times margin on COMP futures lead Binance down the same path as Poloniex?
Given that COMP has only been trading since mid-June, it would probably be wiser to err on the side of caution. However, the hype surrounding COMP was just too irresistible for Binance. Only time will tell what consequences lie on the other side.
---
---
Do you want to Be In Crypto?Join our Telegram Trading Group for FREE Trading Signals,a FREE Trading Course for Beginners and Advanced Tradersand a lot of fun!

Images courtesy of Shutterstock, TradingView and Twitter.
Disclaimer. Read MoreRead Less
As a leading organization in blockchain and fintech news, BeInCrypto always makes every effort to adhere to a strict set of editorial policies and practice the highest level of journalistic standards. That being said, we always encourage and urge readers to conduct their own research in relation to any claims made in this article.
This article is intended as news or presented for informational purposes only. The topic of the article and information provided could potentially impact the value of a digital asset or cryptocurrency but is never intended to do so. Likewise, the content of the article and information provided within is not intended to, and does not, present sufficient information for the purposes of making a financial decision or investment. This article is explicitly not intended to be financial advice, is not financial advice, and should not be construed as financial advice. The content and information provided in this article were not prepared by a certified financial professional. All readers should always conduct their own due diligence with a certified financial professional before making any investment decisions.
The author of this article may, at the time of its writing, hold any amount of Bitcoin, cryptocurrency, other digital currency, or financial instruments — including but not limited to any that appear in the contents of this article.